Seafood Banquets for Bridal Parties
Located on the Mobile Causeway, the Original Oyster House Banquet Room has become a top spot for banquets and private parties. Maybe it's the panoramic view of the Delta and Mobile skyline or the create-your-own seafood buffet that keeps it booked especially during the holiday season. It's fast becoming a bridal venue for locals and travelers alike because of its great location in between Mobile and Baldwin counties. At dinner time, a panoramic sunset explodes over Mobile Bay which then transitions into a brilliant twilight afterglow filling the 2,000 square foot room. This breathtaking ambience becomes a perfect complement to the signature selection of fresh Gulf seafood, specialty drinks and craft beers. The waterfront banquet room is fully equipped for parties of 30 or more, seats up to 100 guests comfortably and has private bathrooms. Ideal venue for bridal rehearsal dinners, weddings, family reunions, class reunions, showers, reveals, celebrations [birthdays, retirements, anniversaries, milestones], holiday parties, corporate meetings, events, presentations or family gatherings with more than 30 guests.
"When you start adding up the cost of a venue, linens, caterers, entrees and so forth, event planners figure out how affordable the Banquet Room is since it includes all this. We love to work with people to ensure the best experience and encourage planners to use the table set-up sample chart to decide layout for room flow. Best of all, since the Banquet Room is elevator accessible, planners can decorate a themed event or an elegant party," explained Rebecca Walter, banquet room manager of the Original Oyster House.
The Original Oyster House (OOH) has two locations, Mobile: 3733 Battleship Parkway, Mobile (Spanish Fort), AL on the Causeway and Gulf Shores: 701 Gulf Shores Parkway, Gulf Shores, AL on the Original Oyster House Boardwalk. Both locations offer spectacular waterfront views, private party rooms and have been celebrated as the area's finest family restaurants. For more information about Original Oyster House, visit www.originaloysterhouse.com/banquet or e-mail banquets@originaloysterhouse.com.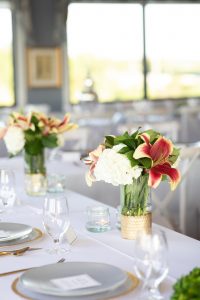 Banquet Room Video Tour
Banquet Room Virtual Tour