Southern Hospitality
At the Original Oyster House, we are family from the owners to the management, to the employees and ultimately to our customers. We want everyone to feel at home when they are in our restaurants. We strive to deliver outstanding Southern Hospitality through teamwork and exceed customers' expectations, enhance their dining experience with kindness, pay great attention to detail and prompt service. We are committed to create and preserve a fun atmosphere for our customers and employees alike.
James Nail, General Manager, Gulf Shores Location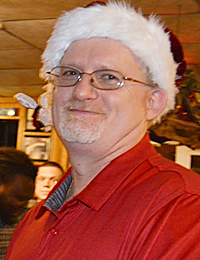 James truly has oyster juice in his veins. Starting as a dish washer in 1991, James transitioned through positions including cook and kitchen manager. He was mentored by Tobie Rogers, the Causeway's former Assistant General Manager. James loves working for the restaurant because he likes to see employees rewarded for their hard work within the company. When he is not at work he loves spending time with his wife and five kids. James also enjoys playing pool and bowling. His favorite entrée is Mahi Down On Da Bayou.
Anatolie Simion, Assistant General Manager, Gulf Shores Location
Starting in 2007, Anatolie Simion worked his way up the ladder at the Original Oyster House through hard work and perseverance. He started as a dishwasher, moved onto bussing tables, then to food running, then to serving and a decade ago was promoted to Dining Room Manager. Today he's the Assistant General Manager of one of the busiest seafood restaurants in Gulf Shores.
While working hard and raising his family with his wife Constance, Anatolie finished his Master of Business Administration at the University of West Florida. What makes his job so special are the people he works with and those he serves. "We spend a lot of time together. We're a family and that gets us through the busy summer months. I love the diversity of our staff and guests, who come from all over the states and the world," said Anatolie. "Opportunities are here, with desire and effort you can achieve your dreams."
Outside of the workplace, Anatolie likes running marathons, half marathons, biking and reading.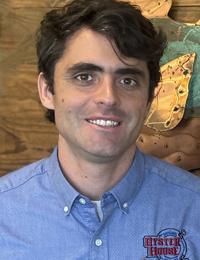 Jim Harrison, General Manager, Mobile Causeway Location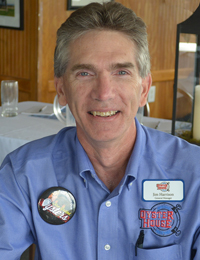 Jim was hired as a kitchen manager and quickly moved up to assistant general manager. Jim was promoted to General Manager when the restaurant was displaced by Hurricane Katrina in 2005. He and his managers oversaw the transformation of the new location which opened in November of 2005. Jim has led his management team through many additions at this location, the banquet room, expansion of the bar and the 2014 addition of the grilled oyster kitchen.
Jim comes from a large Mobile family, loves to spend time with his wife and extended family!
Dre Lawson, Assistant General Manager, Mobile Causeway Location
In August of 1990, Dre Lawson's brother-in-law referred him to the restaurant for a job. Thirty three years later, Dre was named the Assistant General Manager of one of the oldest restaurants on the Mobile Causeway this past August. As one of the longest employed staff members, Dre worked hard through the ranks. Starting as a busser, he quickly became a server, then lead server and in 2003 was promoted to Dining Room Manager. His leadership, perseverance combined with passion to make guests and employees happy, helped him fulfill his dream of running the restaurant.
Dre's background as a musician also helped pave the way for his excellent customer service skills. He started singing at age four, and his devotion to perform has made him a life-long entertainer. During the late nineties, Dre's band "Uneeke" opened for greats including Patti Labelle, NSYNC and Chrisette Michele. He has lent his vocals at the restaurant where occasionally you may hear him sing Happy Birthday to a lucky customer or an employee. This past year the Mobile Film Office awarded the Original Oyster House holiday video with the AVA Award due to Dre's rendition of "The Christmas Song." Dre's velvety smooth R&B vocals can be heard on many company videos.