The Original Oyster House restaurants have joined the over 200+ Alabama restaurants participating in Alabama Restaurant Week. In its third year, Alabama Restaurant Week is sponsored by the Alabama Tourism Department and celebrates Alabama's diverse range of cuisine in a 10-day event, from Friday August 15 through Sunday August 24, 2014. Participating restaurants offer pre-fixed two or three-course meals at an attractive set price. To qualify for participation, a restaurant must be a locally owned and operated in the State of Alabama as well as be important to the Alabama tourism industry.
The Original Oyster House will offer a $15 two-course lunch that includes a cup of award-winning seafood gumbo paired with its famous Oyster Po'Boy during Alabama Restaurant Week. Each item is a house specialty and made fresh daily. The gumbo includes crab meat, flounder, shrimp and more stewed in a tasty homemade roux. It's a great complement to the Oyster Po'Boy which includes a generous offering of plump fresh Gulf oysters, hand-breaded in the Original Oyster House's special recipe, served on locally made, fresh crusty bread. It comes accompanied with crisp French fries and sweet Cole slaw.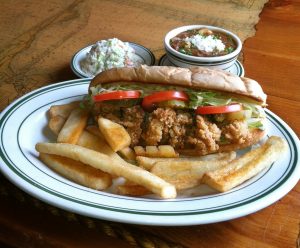 No coupons or discount books required. Those dining at the Original Oyster House during August 15 through August 24 should just ask for the Alabama Restaurant Week special. Price does not include tip, tax, or drink.
The Original Oyster House has become the "must-go-to" place for great fresh Gulf seafood, service and southern hospitality and for its panoramic waterfront sunsets. A top-spot for hand-shucked and fire-grilled oysters, the Original Oyster House has also become legendary for its homemade gumbo, cheesy grits with blackened shrimp, as well as handcrafted desserts including its famous Peanut Butter Pie. Patrons, employees and children are welcomed as family. Known as an employer of choice, the Original Oyster House has long-time, loyal employees who value family, integrity and great service. Consistently earning high marks in customer satisfaction, Original Oyster House's mission is to exceed customer's expectations and received the 2014 TripAdvisor® Certificate of Excellence award.
The Original Oyster House (OOH) has two locations, Mobile: 3733 Battleship Parkway, on the Causeway and Gulf Shores: 701 Hwy 59 on the Original Oyster House Boardwalk. Both locations offer spectacular waterfront views and have been celebrated as the area's finest family restaurants for the past 30 years. The Original Oyster House is managed by Superb Foods, a management company of Geez Louise Boutique, OOH Trading Company and Joe & Dave's Sauces and Seasonings. For more information about the Original Oyster House, visit www.originaloysterhouse.com or call 251-928-2620.
For more information on Alabama Restaurant Week, contact Grey Brennan, Alabama Tourism Department, grey.brennan@tourism.alabama.gov.v