Daphne Ala., May 7, 2019 — The Original Oyster House awarded the 14th Annual Chelsea Garvin Spirit Scholarships to Ashley Suchan and Maggie Davis both Bayside Academy seniors. For a third consecutive year, a Bayside student has been awarded one of the scholarships but this was the first year Bayside students won both $1,000 scholarships.
In 2006, the scholarships were created in loving memory of Chelsea Garvin, who was an exceptional employee, a volunteer Fish River Fire Department Rescue Diver and a talented artist. Tragically Chelsea lost her life while volunteering in a boating accident.
In selecting the scholarship winners, highest consideration was given for the most creative representation of the Original Oyster House restaurants. Suchan and Davis's artwork were unanimously selected by eight scholarship committee members.
"This year is the first time both scholarship winners are from Bayside. Your school had the largest percentage of applicants in the Baldwin County school area which speaks highly of your student body, your teachers and your admissions counselors. That really says a lot for the Bayside community," stated Jim Harrison, general manager of the Original Oyster House while presenting the awards.
Both winning artworks will be displayed in the restaurants for local patrons and visitors from all over the country to enjoy. The winners were given $1,000 each as well as restaurant gift certificates to see first-hand their artwork displayed with family and friends.
The Original Oyster House has become the "must-go-to" place for great fresh Gulf seafood, service and Southern hospitality and for its panoramic locations. A top-spot for hand-shucked and fire-grilled oysters, the Original Oyster House is legendary for its homemade gumbo, cheesy grits with blackened shrimp as well as handcrafted desserts including its famous peanut butter chocolate chip pie.
The Original Oyster House has two locations, Mobile: 3733 Battleship Parkway, on the Causeway and Gulf Shores: 701 Hwy 59 on the Original Oyster House Boardwalk. Both locations offer spectacular waterfront views, private party rooms and have been celebrated as the area's finest family restaurants for the past 35 years. For more information about Original Oyster House scholarship, visit www.originaloysterhouse.com/scholarship or call 251-928-2620.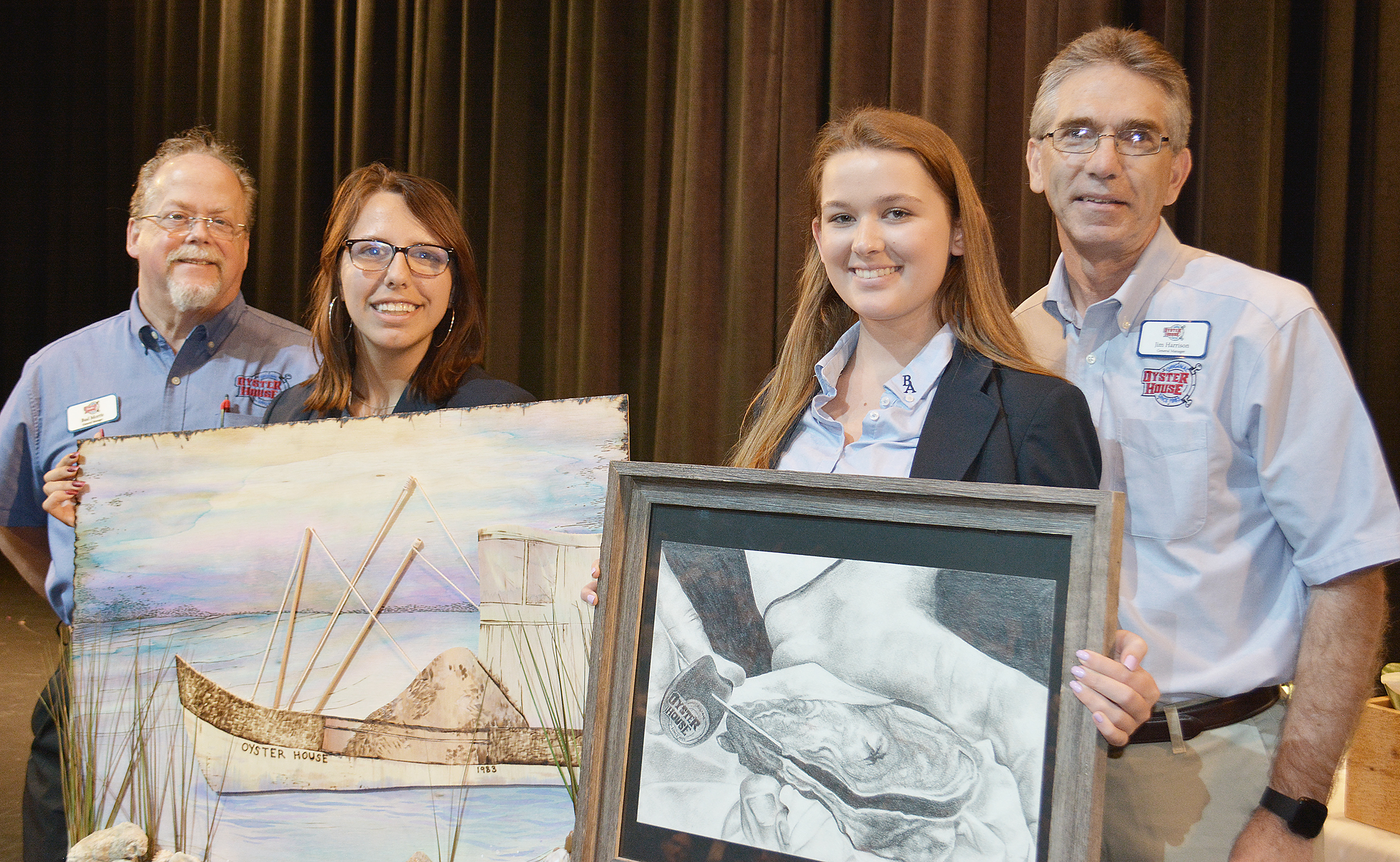 Pictured on scholarship day at Bayside Academy from left are Bud Morris, general manager of the OOH Gulf Shores, Ashley Suchan and Maggie Davis, the 2019 Chelsea Garvin Spirit Scholarship winners and Jim Harrison, general manager OOH Mobile Causeway.