The Original Oyster House awarded its 16th Annual Chelsea Garvin Spirit Scholarships to O'Melia Macpherson of Bayside Academy and Anna Goeke of Foley High School. Macpherson will study pre-law with a minor in art at the University of Alabama and Goeke will study studio art at the University of South Alabama this fall.
In 2006, the scholarship was founded in loving memory of Chelsea Garvin, who was an exceptional employee, a volunteer Fish River Fire Department Rescue Diver and a talented artist. Tragically at age 19, Chelsea lost her life in a boating accident while volunteering.
It's called a spirit scholarship to award recipients who reflect Chelsea Garvin and both winners do. Macpherson submitted a multimedia piece with stunning colors, oyster shells and textures that illustrate a spectacular oyster reef. Goeke's artwork of oyster shells received the most votes from this year's scholarship committee. But her application stood out as she shared her work ethic and never give up attitude. Both artists creatively captured the Oyster House brand. The winning artworks will be on display at both Original Oyster House locations for patrons and tourists to enjoy.
The Original Oyster House has become the "must-go-to" place for great fresh Gulf seafood, service and Southern hospitality and for its panoramic locations. A top-spot for hand-shucked and fire-grilled oysters, the Original Oyster House has also become legendary for its homemade gumbo, cheesy grits with blackened shrimp as well as handcrafted cocktails and desserts including its famous peanut butter chocolate chip pie. Having been the first restaurant in the state to pilot the Oyster Recycling Shell program, the Original Oyster House supports the sustainability of oysters and is one of the only restaurants to [oyster garden], grow stocker oysters to refurbish the reef.
The Original Oyster House has two locations, Mobile: 3733 Battleship Parkway, on the Causeway and Gulf Shores: 701 Gulf Shores Parkway on the Original Oyster House Boardwalk. Both locations offer spectacular waterfront views, private party rooms and have been celebrated as the area's finest family restaurants for the past 38 years. For more information about Original Oyster House, visit www.originaloysterhouse.com or call 251-928-2620.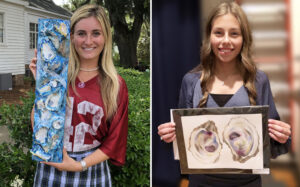 Pictured from left are the 2022 Chelsea Garvin Spirit Scholarship Awardees O'Melia Macpherson, Bayside Academy senior and Anna Goeke, Foley High School senior.