When you want a variety of seafood… the Original Oyster House is THE place for Seafood Platters! There are so many to choose from:
In Gulf Shores:
Shrimpers Delight – Fried shrimp, boiled shrimp, stuffed shrimp, fried crab claws and fried flounder. WOW!
Captain's Choice – Shrimp scampi, fried fish, boiled shrimp and a taste baked stuffed crab.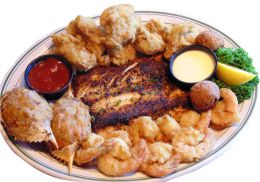 Fisherman's Pride – A cup of homemade seafood gumbo or Blockhead Joe's clam chowder and a platter of fried shrimp, crab claws, flounder fillet, scollops, and oysters with a baked stuffed crab.
Broiled Seafood Lover's Platter – Broiled sea scollops, flounder fillet, baked stuffed shrimp, and boiled shrimp.
Create Your Own – You choose your favorites!
On the Causeway:
Seafood Platter – Fried Shrimp, oysters, crab claws and a flounder.
Causeway Steamer – Snow crab legs, oysters on the half shell and one pound of steamed head-on shrimp.
Shrimp Trio – A delicious combination of fried shrimp, Mike's grilled shrimp and our signature steamed head-on shrimp.
K.P.'s Sampler – Chicken tenders, popcorn shrimp and flounder fillet.
Fried shrimp & Crab claws
Bourbon Glazed Mahi and Fried Shrimp
Joe and Dave's Crab Cakes and Grilled Shrimp Platter