The Original Oyster House is Going Green
Celebrating 30 years in business and installing a wind turbine to help offset energy costs
(Spanish Fort, AL) The Original Oyster House known for being a good neighbor wants to take advantage of their Causeway breeze and put it to good use. They re installing the first wind turbine at their Causeway restaurant in Spanish Fort Thursday, December 13th at 11:00 a.m. to help offset their energy costs. We ve been in business for 30 years and have always prided ourselves on being good neighbors and good stewards, said Joe Roszkowski, President of the Original Oyster House. The restaurant began converting all used frying oil into Bio Diesel more than two years ago to fuel company vehicles. By installing this wind turbine, we re ramping up our efforts to become more environmentally friendly.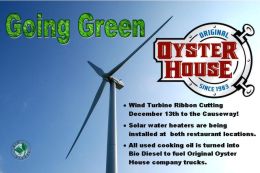 The wind turbine will sit on a 45-foot-high tower and will work 24 hours per day by generating power whenever winds reach eight miles per hour or greater. Power generated by the wind turbine will light the restaurant s playground and Christmas lights. Any surplus energy will be put back on the grid.
Roszkowski isn t stopping with just a wind turbine when it comes to creating more sustainable practices at his two restaurants. Solar water heaters are being installed at both the Causeway Original Oyster House and at their Gulf Shores location. We re doing this because it s the right thing to do, for our environment, our children and their children.
The Original Oyster House is partnering with the Gulf Coast Exploreum to help educate children of all ages on the positive effects of Green Energy through the STEAM movement. The STEAM movement joins: Science, Technology, Engineering, Arts & Math. The Original Oyster House will host field trips for area schools so children can see Green Energy first hand.
Join the Original Oyster House, Mobile and Baldwin County officials, Chamber members and others for the raising of the wind turbine tower. We are proud sponsors of Alabama PALS thru Alabama Coastal Cleanup, and we re excited about doing more to help keep our environment clean.