The Original Oyster House restaurants honored an estimated 500 Mobile and Baldwin County law enforcement, firefighters and paramedics with a free meal at its Never Forget Lunch held on Mon., September 11, 2023. The 16th annual event was established in honor of the 9/11 First Responders who risked their lives and also to recognize all first responders for their service. "First Responders saved my life several times. Providing a free meal is the least we can do.  All these guys do what it takes to protect, serve and save people in our community, and we should never want to forget that," said David Dekle, founder of the Original Oyster House.
At the Mobile Causeway location, attractions including GulfQuest Museum, Wind Creek Hospitality, OWA Parks & Resort, Dora Franklin Finley African-American Heritage Trail, USS ALABAMA Battleship Memorial Park and Visit Mobile joined the Original Oyster House in paying tribute to first responders. First responders were greeted with great giveaways including fluorescent tees, overnight stays, dinner for 2 vouchers, discounted coupons and branded swag. LifeSouth Community Blood Centers registered 15 donors and collected 13 blood donations, which translates into 39 lives saved.
The Original Oyster House has become the "must-go-to" place for great fresh Gulf seafood, Southern hospitality and for its panoramic waterfront sunsets. A top-spot for hand-shucked and fire-grilled oysters, the Original Oyster House has also become legendary for its homemade gumbo, cheesy grits with blackened shrimp, as well as handcrafted desserts including its famous Peanut Butter Pie. In 2016, the Original Oyster House became the first restaurant in the state of Alabama to recycle oyster shells through the Alabama Coastal Foundation. In September of 2023, an estimated 23 million oyster shells to date have been recovered. The Original Oyster House also supports the sustainability of oysters and is one of the only restaurants to [oyster garden], grow stocker oysters to refurbish the reef.
The Original Oyster House (OOH) has two locations, Mobile: 3733 Battleship Parkway, on the Causeway and Gulf Shores: 701 Gulf Shores Parkway on the Original Oyster House Boardwalk. Both locations offer spectacular waterfront views and have been celebrated as the area's finest family restaurants for the past 40 years. For more information about the Original Oyster House, please visit www.originaloysterhouse.com or call 251-928-2620.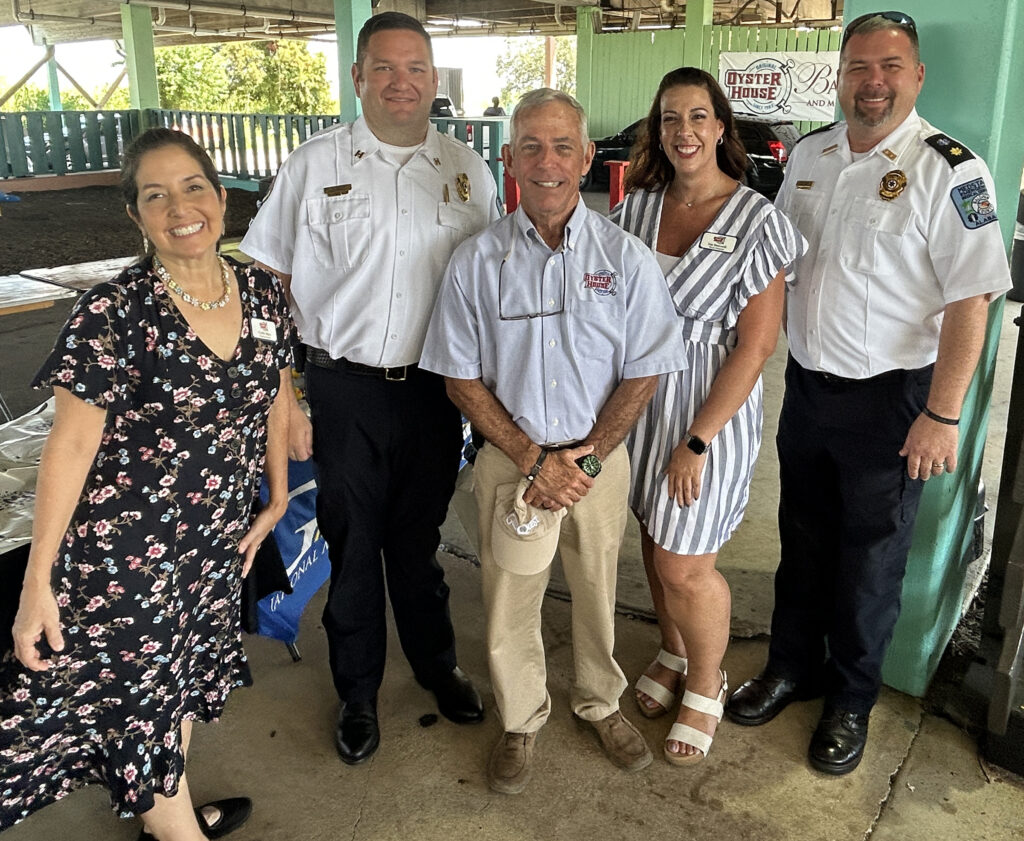 Pictured at the 16th Annual Never Forget Lunch are from left Cecilia Mace, (Original Oyster House), EMT Operations Supervisor Joe Moore, David Dekle (Original Oyster House founder), Joie Biancardi (Original Oyster House) and EMT Operations Manager Brad Jernigan.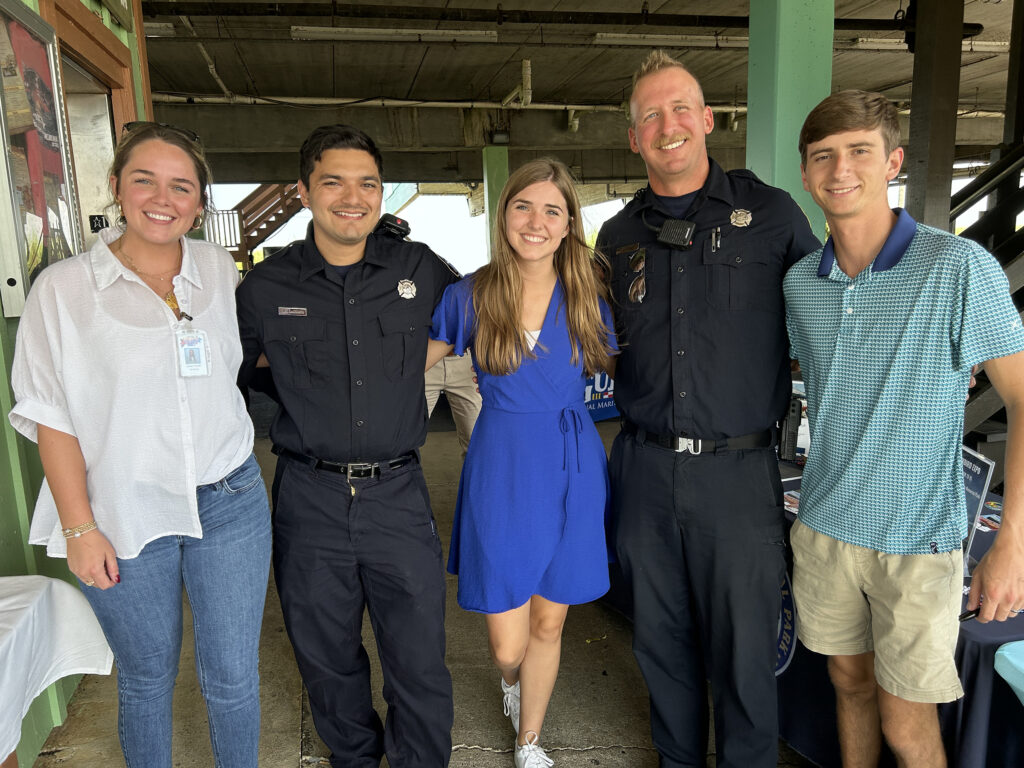 Attractions including OWA Parks & Resorts and ALABAMA Battleship Memorial Park greeted our first responders with discounted tickets, branded swag and huge thanks. Pictured from left are Jessa Tinelli (OWA), Mobile Fire-Rescue Department Nicholas Lugrain (MFRD), Ashleigh Milne, (Battleship Alabama), Chris Peacock (MFRD), and Cody Tavernier (OWA).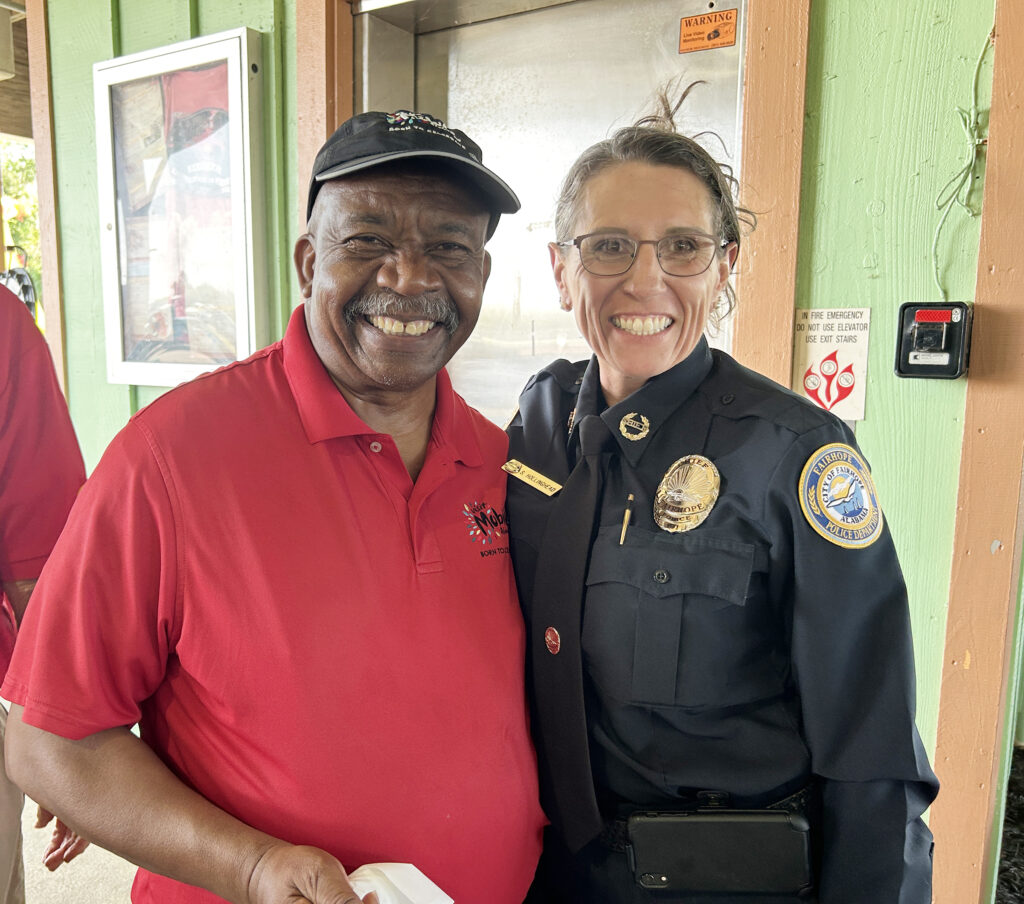 Walter Calhoun (Visit Mobile) thanks Chief of Police Lieutenant Stephanie Hollinghead for her service as a first responder at the 16th Annual Never Forget lunch.
Each year the Never Forget Lunch includes a blood drive in memory of the lives lost that fateful day. Pictured from left are Chad Le Jeune, Angela Williams, Shaqurria Glover, Deandria Clausell, and Kayla Howell of LifeSouth Community Blood Centers, Inc.