For a second year, the Original Oyster House claimed the Snowbird Choice Award for 'Overall Favorite' on Saturday, Jan. 11 at the 9th Annual Snowbird Fest at the Orange Beach Convention Center in Orange Beach, Al. With almost 2,000 snowbirds attending from across the US, the inclement weather predictions had no influence on the event's turnout. The People's Choice Award is tallied based on votes by attending Snowbirds.
The Original Oyster House served over 1,000 tastings of its famous cheesy grits and blackened shrimp, Mardi Gras mini moon pies as well as coffee sponsored by Royal Cup Coffee, which is the coffee brand of the restaurant.
The Snowbird Company is the #1 Snowbird rentals resource since 2003 and offers annual snowbird-focused events and expos as well as printed newsletters and many other social, email and online advertising platforms. For more information please visit https://snowbirdfest.com.
The Original Oyster House has become the "must-go-to" place for great fresh Gulf seafood, service and southern hospitality and for its panoramic waterfront sunsets. A top-spot for hand-shucked and fire-grilled oysters, the Original Oyster House has also become legendary for its homemade gumbo, cheesy grits with blackened shrimp, as well as handcrafted desserts including its famous Peanut Butter Pie. The Original Oyster House (OOH) has two locations, Mobile: 3733 Battleship Parkway, on the Causeway and Gulf Shores: 701 Gulf Shores Parkway on the Original Oyster House Boardwalk. Both locations offer spectacular waterfront views and have been celebrated as the area's finest family restaurants for 36+ years. For more information about the Original Oyster House, visit www.originaloysterhouse.com or call 251-928-2620.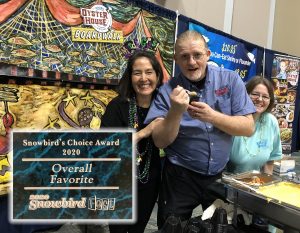 Pictured at the 9th Annual Snowbird Fest is the winning team of the Snowbird Choice Award from left Cecilia Mace, James Nail, Maureen Nail, and not pictured [Eliza McGaster] serving cheesy grits and blackened shrimp.