Taste of Mobile celebrated its 36th annual event at the Arthur R. Outlaw Convention Center, Mobile, Ala. on November 7, 2013. One of the city's largest dinner parties, Taste of Mobile was host to over 1200 diners who partook in fabulous samplings of over 50 of our area's best restaurants. Proceeds benefited Goodwill Easter Seals of the Gulf Coast, helping people with disabilities in our community.
This year Taste of Mobile's judging panel awarded Original Oyster House the 2013 Best Independent Restaurant. The combination of the tastiest cheese grits around topped with blackened shrimp was prepared and served by Chef Richie Pippin, kitchen manager of Original Oyster House on the causeway.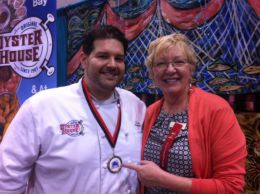 The booth design was as awesome as Pippin's shrimp 'n cheese grits. Eastern Shore Art Center Community Outreach Director Nancy Raia creatively illustrated an 8 foot x 8 foot backdrop displaying sea creatures juggling, plate spinning and performing to a stand up crowd. Original Oyster House's Circus under the Sea was a hit with the Taste of Mobile judges and diners alike.
Original Oyster House (OOH) has two locations, Mobile: 3733 Battleship Parkway, on the causeway and Gulf Shores: 701 Hwy 59 on the Original Oyster House Boardwalk. Both locations offer waterfront spectacular views and are celebrated as the areas finest family restaurants for 30 years. Original Oyster House is managed by Superb Foods, a management company of Geez Louise Boutique, OOH Trading Company and Joe & Dave Sauces and Seasonings. For more information about Original Oyster House, visit www.originaloysterhouse.com or call 251-928-2620.