On March 18, 2014, the Eastern Shore Chamber officially honored the Original Oyster House (OOH) as its 2013 environmental award winner by planting a 15-foot Nuttal Oak at Christ the King Catholic School in Daphne, Ala. The Eastern Shore Chamber Environmental Committee awarded the Original Oyster House because of the company's proactive environmental stance and sustainable practices that went beyond what is required by policy or law, to protect the environment as well as the quality of life along the Eastern Shore. In 2010, OOH restaurants started converting all used frying oil into Bio Diesel to fuel company vehicles.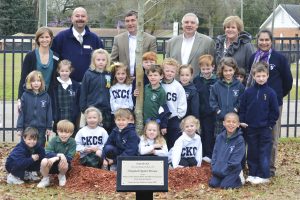 In December of 2012, a wind turbine was installed at the Mobile Causeway restaurant location.The wind turbine sits on a 55-foot-high tower and runs 24 hours a day generating power whenever winds reach eight miles per hour or greater. The power generated offsets energy costs while lighting up the restaurant's playground, holiday lights and outdoor areas. Surplus energy is distributed back on the grid. In 2013, solar water heaters were installed at both restaurant locations. In February of 2014, the Original Oyster House helped extend the Oyster Trail, by its five-year sponsorship of the first Oyster sculpture installment on the Eastern Shore. The Oyster Trail is a fun, educational and public art program that benefits restoration efforts of the all-volunteer Oyster Gardeners, Auburn University Marine Extension and Research Center, The downtown Mobile Alliance, the Mobile Arts Council, the Mississippi-Alabama Sea Grant Consortium and the Alabama Cooperative Extension System. The Original Oyster House has become the must-go-to-place for great fresh Gulf seafood, service and southern hospitality and for its panoramic waterfront sunsets. A top-spot for hand-shucked and fire-grilled oysters (Causeway Location), the Original Oyster House has also become legendary for its homemade gumbo, cheesy grits with blackened shrimp as well as handcrafted desserts including its famous peanut butter chocolate chip pie. Patrons, employees and children are welcomed as family. Known as an employer of choice, Original Oyster House has long-time, loyal employees who value family, integrity and great service. Consistently earning high marks in customer satisfaction,
Original Oyster House's mission is to exceed customer's expectations and to give back to the community. The Original Oyster House has two locations, Mobile: 3733 Battleship Parkway, on the Causeway and Gulf Shores: 701 Hwy 59 on the Original Oyster House Boardwalk. Both locations offer spectacular waterfront views, private party rooms and have been celebrated as the area's finest family restaurants for the past 30 years. The Original Oyster House is managed by Superb Foods, a management company of Geez Louise Boutique, OOH Trading Company and Joe & Dave's Sauces and Seasonings. For more information about Original Oyster House, visit www.originaloysterhouse.com or call 251-928-2620.
Pictured at Christ the King Catholic School with the tree are from left back Kindergarten Teacher Tierney Moore, Principal Max Crane, Daphne Mayor Dane Haygood, Original Oyster House Co-owner and President Joe Roszkowski, ESCoC President/CEO Darrelyn Bender, Assistant Teacher Bea Hernandez and the Christ the King School kindergarten students.