Continuing its tradition, Original Oyster House restaurants & Geez Louise Boutique will close September 7, 2014, the Sunday after Labor Day, for its 27th Annual Employee Picnic. Employees of Original Oyster House and Geez Louise Boutique and their immediate families are thanked for a job well done with a family fun day at Waterville USA.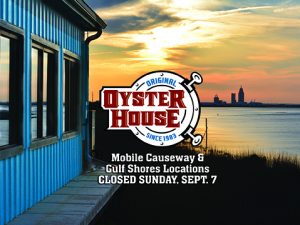 The Original Oyster House celebrated its 30th year in business in 2013 and has many staff members who have grown with the company throughout these years. Considered a top choice employer, Original Oyster House regularly recognizes staff members and encourages their involvement with RIP, an acronym for Rapid Improvement Plan, promoting creative ideas to decrease expenses and improve service.
The Original Oyster House has become the "must-go-to" place for great fresh Gulf seafood, service and southern hospitality and for its panoramic waterfront sunsets. A top-spot for hand-shucked and fire-grilled oysters, the Original Oyster House has also become legendary for its homemade gumbo, cheesy grits with blackened shrimp, as well as handcrafted desserts including its famous Peanut Butter Pie. Patrons, employees and children are welcomed as family. Known as an employer of choice, The Original Oyster House has long-time, loyal employees who value family, integrity and great service. Consistently earning high marks in customer satisfaction, the Original Oyster House's mission is to exceed customer's expectations and received the 2014 TripAdvisor® Certificate of Excellence award.
The Original Oyster House (OOH) has two locations, Mobile: 3733 Battleship Parkway, on the Causeway and Gulf Shores: 701 Hwy 59 on the Original Oyster House Boardwalk. Both locations offer spectacular waterfront views and have been celebrated as the area's finest family restaurants for the past 30 years. The Original Oyster House is managed by Superb Foods, a management company of Geez Louise Boutique, OOH Trading Company and Joe & Dave's Sauces and Seasonings. For more information about the Original Oyster House, visit www.originaloysterhouse.com or call 251-928-2620.
.####