The Original Oyster House awarded Kellie Hastings and Elena McLaughlin, both seniors of Fairhope High School, the 9th Annual Chelsea Garvin Spirit Award Scholarships. Chelsea Garvin was a 2004 graduate of Fairhope High School, a Fish River Fire Department volunteer, an Original Oyster House employee and a talented artist whose life was cut short in a boating accident in 2005.
The scholarship winners reflect Chelsea's spirit in their artwork and in their reason for applying. "I want this scholarship so I can further my artistic skill and use it to inspire people and invoke emotions. Art, whether creating or just taking in other's works, has always been my segue to feel and I hope that one day I can do the same for someone else," stated Hastings. "My ultimate goal is to open up my own therapeutic riding center and work with children with disabilities. This scholarship would help put me on my way to achieving my goals," claimed McLaughlin.
Since 2006, the Original Oyster House has each year sponsored two $1,000 Chelsea Garvin Spirit Award scholarships. "I really like this scholarship opportunity because it is not based on financial need, but rather academics, being involved in community arts and submitting artwork that reflects the culture of the well-loved iconic seafood restaurant as well as the spirit of Chelsea. Through Chelsea's Scholarship, seniors of Baldwin County can experience that through art, you can serve others, evoke emotions, communicate to the masses, memorialize an amazing spirit, lift up your family, friends and peers and in this scenario, help pay for your college education," shared Cecilia Mace, marketing director of Superb Foods. The winning artworks will be displayed in both Original Oyster House restaurants for local patrons and visitors from all over the country to enjoy. The winners were also given restaurant gift certificates to see first-hand their artwork displayed with family and friends.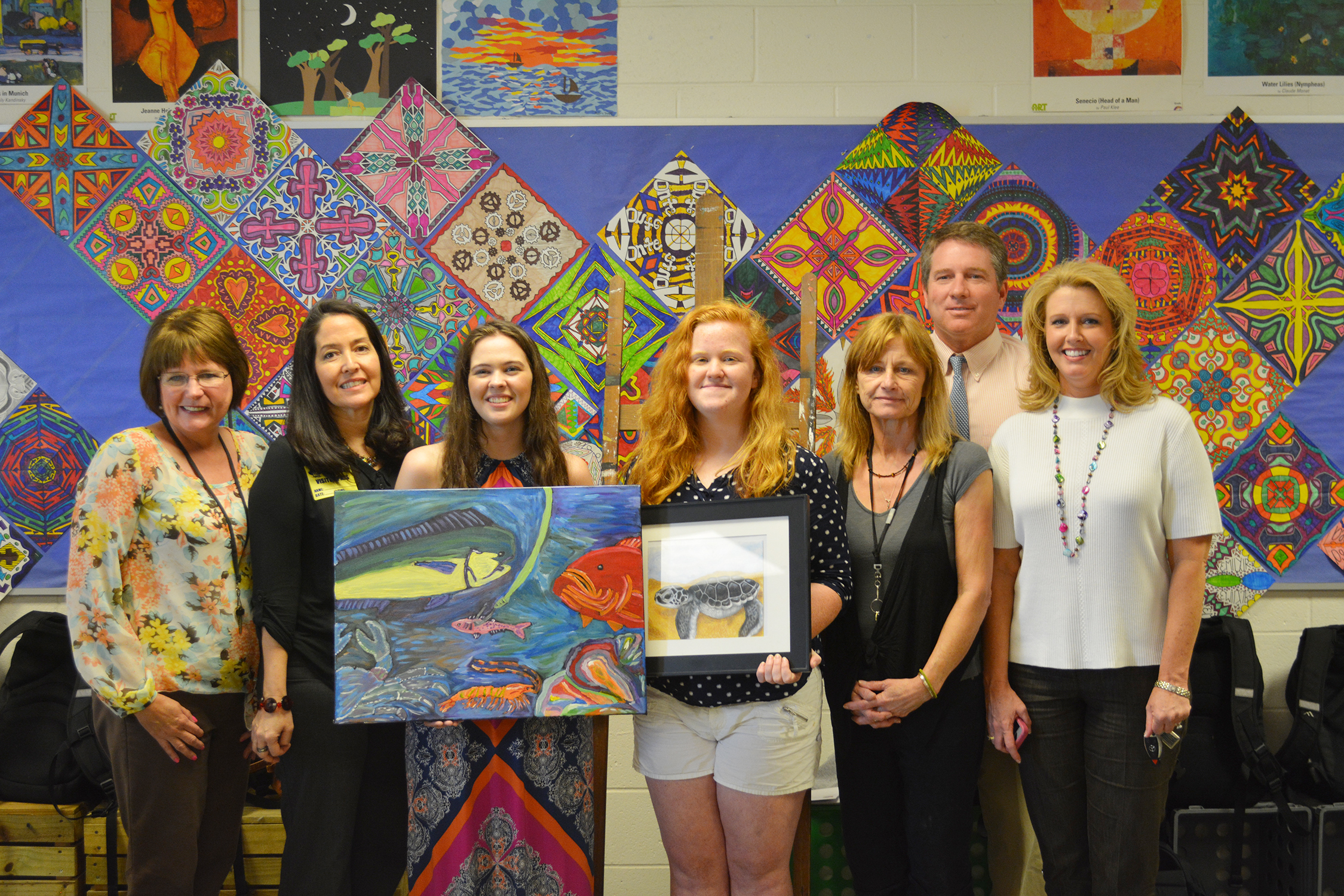 The Original Oyster House has become the "must-go-to" place for great fresh Gulf seafood, service and southern hospitality and for its panoramic locations. A top-spot for hand-shucked and fire-grilled oysters, the Original Oyster House has also become legendary for its homemade gumbo, cheesy grits with blackened shrimp as well as handcrafted desserts including its famous peanut butter chocolate chip pie. Patrons, employees and children are welcomed as family. Known as an employer of choice, Original Oyster House has long-time, loyal employees who value family, integrity and great service. Consistently earning high marks in customer satisfaction, Original Oyster House's mission is to exceed customer's expectations and to give back to the community. The Original Oyster House has two locations, Mobile: 3733 Battleship Parkway, on the Causeway and Gulf Shores: 701 Hwy 59 on the Original Oyster House Boardwalk. Both locations offer spectacular waterfront views, private party rooms and have been celebrated as the area's finest family restaurants for the past 30 years. The Original Oyster House is managed by Superb Foods, a management company of Geez Louise Boutique, OOH Trading Company and Joe & Dave's Sauces and Seasonings. For more information about Original Oyster House, visit www.originaloysterhouse.com or call 251-928-2620. For more information on the Original Oyster House's Annual Chelsea Garvin Spirit Award Scholarships, please contact by e-mail marketing@originaloysterhouse.com or call 251-928-2620 x 110.