The Original Oyster House restaurants honored an estimated 450 Mobile and Baldwin County law enforcement, firefighters and paramedics with a free meal at its Never Forget Lunch on Fri., September 11, 2020. The 13th annual event was established in honor of the 9/11 First Responders who risked their lives and also to recognize all first responders for their service. "We want to do our part to honor, thank and practice what we preach in never forgetting those who run into dark alleys, burning buildings and toward danger to protect and save," said Jim Harrison, general manager of the Original Oyster House.
Local Attractions & Blood Drive
At the Mobile Causeway location, attractions including Visit Mobile, Bellingrath Gardens, Perdido Queen Dinner Cruises, GulfQuest Museum and Carnival Museum joined the Original Oyster House in paying tribute to first responders. LifeSouth Community Blood Centers, also onsite, collected 15 donations translating into 45 lives saved and screened all eligible donors for COVID-19 antibodies.
The Original Oyster House has become the "must-go-to" place for great fresh Gulf seafood, service and Southern hospitality and for its panoramic waterfront sunsets. A top-spot for hand-shucked and fire-grilled oysters, the Original Oyster House has also become legendary for its homemade gumbo, cheesy grits with blackened shrimp, as well as handcrafted desserts including its famous Peanut Butter Pie. In 2016, the Original Oyster House became the first restaurant in the state of Alabama to recycle oyster shells through the Alabama Coastal Foundation. In July of 2020, an estimated 14 million oyster shells to date have been recovered from participating Gulf Coast restaurants.
The Original Oyster House (OOH) has two locations, Mobile: 3733 Battleship Parkway, on the Causeway and Gulf Shores: 701 Gulf Shores Parkway on the Original Oyster House Boardwalk. Both locations offer spectacular waterfront views and have been celebrated as the area's finest family restaurants for the past 37 years. For more information about the Original Oyster House, please visit www.originaloysterhouse.com or call 251-928-2620.
Pictured from left are Sally Ericson, Director of Marketing & Public Relations for Bellingrath Gardens, Chief David Carpenter, Daphne Chief of Police and Captain Judson Beedy, Daphne Police Field Operations.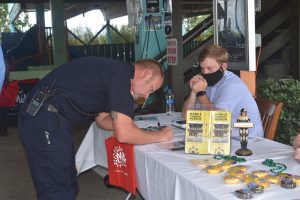 Austin Harler of Perdido Queen Dinner Cruises signs up first responders to win a free dinner cruise.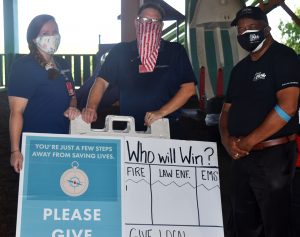 Pictured from left are Lauren Sealy and Chad Le Jeune, both Donor Recruiters for LifeSouth Community Blood Centers, Inc. and Walter Calhoun of Visit Mobile who thanked our local first responders for their heroic service as well as encouraged blood donations in memory of 9/11 first responders. This year all eligible donors were screened for COVID-19 antibodies.