James Nail was recently promoted to assistant general manager of the Gulf Shores' Original Oyster House. In 1989, Nail relocated to Gulf Shores from Detroit, Mich. Employed with the restaurant for nearly 26 years, Nail started as a dishwasher in 1991, became a cook in 1993, promoted to chef in 1995 and then to kitchen manager in 1998. Being located in Alabama's number one tourist destination, Nail has helped renovate and expand the restaurant for growth and after hurricanes and storms and has helped build one of the most iconic seafood restaurants on the Gulf Coast.
Nail claims his favorite aspect of working at the Original Oyster House has been watching others work their way up the ranks. Bud Morris the general manager, started as an server in the kitchen while Anatolie Simion the dining room manager, started as an oyster shucker. Nail says watching others be rewarded for hard work inspired his dedicated work ethic. "I've been really blessed to work alongside an incredible restaurant family who believe in our core values and mission to exceed customers' expectations. When we're real busy, I can get in the zone and it's like having oyster liquor in my veins," stated Nail.
When Nail is not at the restaurant he loves spending time with his wife and five children who range in ages of 15 to 23. Family is most important to Nail and he loves spending quality time with his kids bowling among other activities. If he has spare time from both work and family, he plays pool with friends. Even with an incredibly busy schedule, Nail signed up to volunteer at the Robertsdale Hurricane Shelter after it opened for Hurricane Irma victims.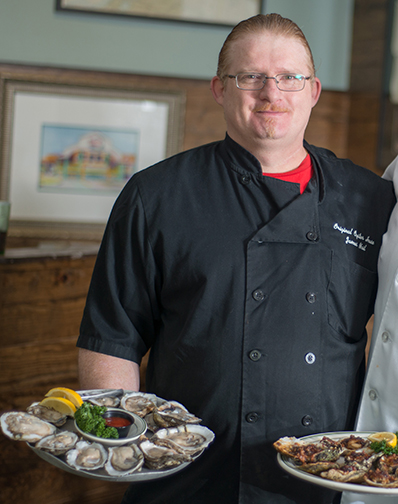 The Original Oyster House has become the "must-go-to" place for great fresh Gulf seafood, service and southern hospitality and for its panoramic waterfront sunsets. A top-spot for hand-shucked and fire-grilled oysters, the Original Oyster House has also become legendary for its homemade gumbo, cheesy grits with blackened shrimp, as well as handcrafted desserts including its famous Peanut Butter Pie. Consistently earning high marks in customer satisfaction, the Original Oyster House's mission is to exceed customer's expectations and received the 2017 TripAdvisor® Certificate of Excellence award.
The Original Oyster House (OOH) has two locations, Mobile: 3733 Battleship Parkway, on the Causeway and Gulf Shores: 701 Hwy 59 on the Original Oyster House Boardwalk. Both locations offer spectacular waterfront views and have been celebrated as the area's finest family restaurants. For more information about the Original Oyster House, visit www.originaloysterhouse.com or call 251-928-2620.
Related Documents