The Original Oyster House celebrated seven employees for reaching a quarter of a century or greater anniversary. Cedric Hudson, the longest employed staff member, will celebrate his 35th anniversary late this year. Hudson joined the restaurant only three years after it opened in 1983. Other longtime employees of the Mobile Causeway location included Roderick Marks, who will celebrate his 30th anniversary this year, Margaret King who celebrated her 26th anniversary this past December and Norman Abrams, who celebrated his 26th anniversary in January. Staff members from the Gulf Shores location included James Nail who celebrated his 27th anniversary in January, and Dennis Sadler and Buster Burns, who will celebrate their 25th anniversaries this year.
At the height of the pandemic as businesses fight for survival, the restaurant management team felt it was extremely important to recognize this seasoned group. Each employee received a gift in recognition of their milestone. "It is with heartfelt congratulations that we celebrate your anniversary with the Original Oyster House. We want to acknowledge your integrity, sense of responsibility and commitment through those years. Thank you for serving through good times and in bad – tropical storms, hurricanes, pandemic. You have played such a significant role in our success and have been an inspiration and mentor to our restaurant family. We sincerely value your loyal service and dedication," said Jim Harrison, general manager of the Original Oyster House, Mobile Causeway.
The Original Oyster House has become the "must-go-to" place for great fresh Gulf seafood, service and Southern hospitality and for its panoramic waterfront sunsets. A top-spot for hand-shucked and fire-grilled oysters, the Original Oyster House has also become legendary for its homemade gumbo, cheesy grits with blackened shrimp, as well as handcrafted desserts including its famous Chocolate Chip Peanut Butter Pie. In 2016, the Original Oyster House became the first restaurant in the state of Alabama to recycle oyster shells through the Alabama Coastal Foundation. As of January, an estimated 14.7 million oyster shells to date have been recovered from participating Gulf Coast restaurants.
The Original Oyster House (OOH) has two locations, Mobile: 3733 Battleship Parkway, on the Causeway and Gulf Shores: 701 Gulf Shores Parkway on the Original Oyster House Boardwalk. Both locations offer spectacular waterfront views and have been celebrated as the area's finest family restaurants for the past 38 years. For more information about the Original Oyster House, please visit www.originaloysterhouse.com or call 251-928-2620.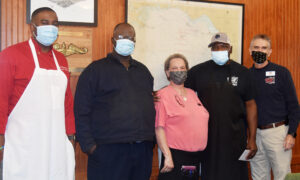 Longtime employees of the Mobile Causeway who celebrated milestones are pictured from left: Norman Abrams (26 years), Cedric Hudson (35 years), Margaret King (26 years), Roderick Marks (30 years) and General Manager Jim Harrison.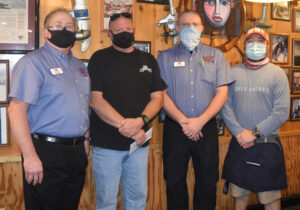 Longtime employees of Gulf Shores who celebrated milestones are pictured from left with General Manager Bud Morris, Dennis Sadler (25 years), James Nail (27 years) and Buster Burns (25 years).