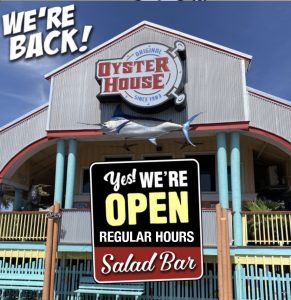 The Original Oyster House in Gulf Shores reopened Tuesday, September 29th, 2020. While the restaurant sustained major flooding, extensive damage and power outages after Hurricane Sally, civic leaders, first responders and local businesses helped expedite recovery. The City of Gulf Shores and City of Orange Beach announced that beaches would open on October 2, 2020. "Although beaches will open October 2, we felt it was important to open earlier for our local residents, local workforce and our staff. It is a privilege to be back up and running with the many obstacles of 2020. The quick recovery after a hurricane during a pandemic demonstrates the resilience of our coastal community," said Bud Morris, general manager of the Original Oyster House in Gulf Shores.
The Mobile Causeway location opened on Friday, September 15, 2020. Currently under regular business hours, the Mobile Causeway restaurant opened its salad bar today which has been greatly missed by its patrons. Gulf Shores' salad bar is also available with its full menu.
The Original Oyster House has become the "must-go-to" place for great fresh Gulf seafood, service and Southern hospitality and for its panoramic waterfront sunsets. A top-spot for hand-shucked and fire-grilled oysters, the Original Oyster House has also become legendary for its homemade gumbo, cheesy grits with blackened shrimp, as well as handcrafted desserts including its famous Peanut Butter Pie. In 2016, the Original Oyster House became the first restaurant in the state of Alabama to recycle oyster shells through the Alabama Coastal Foundation. In July of 2020, an estimated 14 million oyster shells to date have been recovered from participating Gulf Coast restaurants.
The Original Oyster House (OOH) has two locations, Mobile: 3733 Battleship Parkway, on the Causeway and Gulf Shores: 701 Gulf Shores Parkway on the Original Oyster House Boardwalk. Both locations offer spectacular waterfront views and have been celebrated as the area's finest family restaurants for the past 37 years. For more information about the Original Oyster House, please visit www.originaloysterhouse.com or call 251-928-2620.