Mobile, Ala. On November 20, 2014, Mobile Bay Magazine, a premier lifestyle magazine for Mobile and Baldwin counties, announced the Original Oyster House's Fire-Grilled Oysters as the winner of the Inaugural Best Bites Challenge. Featuring 32 local restaurants going head-to-head in five rounds of internet voting, the Best Bites Challenge included the people's choice for their favorites including fire-grilled oysters, the Monte Cristo, Beignets, the LA Burger, chicken fingers and crab soup to name a few.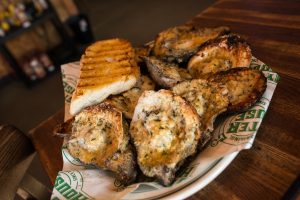 Restaurants included the Original Oyster House, Spot of Tea, T.P. Crockmiers, Sugar Rush, Biscuit King Café, Haberdasher, Fuego, Café 615, Pirates Cove, Callahan's Irish Social Club, the Hungry Owl, Dew Drop Inn, Butch Cassidy's, Bayley's, the Fairhope Inn, Wintzell's Oyster House, Felix's Fish Camp, the Blue Gill, Liquid Lounge, Master Joe's Heroes, Foosackly's, the Brick Pit, Moe's BBQ, Osman's, Briquettes, Dreamland, LAP's, Panini Pete's, Pollman's, Old Dutch and Serda's.
"It's a great honor to be included on this list of Mobile and Baldwin counties' best cuisine and our area's favorite restaurants. We were very excited to be chosen for the challenge and it was a wonderful affirmation to see how much people like fire-grilled oysters. The last two rounds of the Best Bites Challenge were extremely competitive. Fire-grilled oysters received 1,054 votes in the championship round, placing it with 55% of the votes to win the challenge," recapped Joe Roszkowski, co-owner of the Original Oyster House restaurants.
The Original Oyster House has become the "must-go-to" place for seafood on the Causeway and for its panoramic waterfront sunsets. Fire-grilled oysters are just another appetizing enticement for seafood lovers as you will find "oyster cams" throughout the restaurant that capture the sizzle, flame and culinary entertainment of oyster grilling along with the incredible aroma and savory sounds.
The Original Oyster House (OOH) has two locations, Mobile: 3733 Battleship Parkway, on the Causeway and Gulf Shores: 701 Hwy 59 on the Original Oyster House Boardwalk. Both locations offer spectacular waterfront views and have been celebrated as the area's finest family restaurants for the past 30+ years. The Original Oyster House is managed by Superb Foods, a management company of Geez Louise Boutique, OOH Trading Company and Joe & Dave's Sauces and Seasonings.
For more recipes or information please visit www.originaloysterhouse.com.
####