2013 Eastern Shore Environmental Award goes to
the Original Oyster House!
Celebrating 30 years in business and being good stewards to our environment!
(Spanish Fort & Gulf Shores, AL)  Each year the Eastern Shore Chamber of Commerce selects a member that is proactive in taking steps, above and beyond what is required by policy or law, to protect our precious environment as well as our quality of life along the Eastern Shore.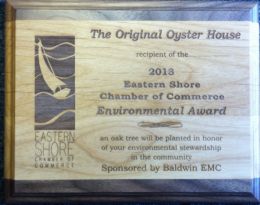 The Eastern Shore Chamber is one of only a handful of chambers in the United States that presents an environmental award and probably the only one that recognizes them by planting a 15 foot live oak tree in honor of their contribution.
The 2013 live oak will be planted in honor of the environmental contributions made by a chamber member best known for serving fresh seafood for the past 30 years. The Original Oyster House was awarded the 2013 Environmental Award during the chambers annual meeting at Oak Hollow Farms on June 27th.
The Original Oyster House is taking great strides at protecting our environment. Most recently, the Original Oyster House installed solar water heaters at both their restaurant locations. In December of 2012, the Original Oyster House installed a wind turbine at their Causeway restaurant in Spanish Fort to help offset energy costs. In 2010 the restaurant began converting all used frying oil into Bio Diesel to fuel company vehicles.
Weve been in business for 30 years and have always prided ourselves on being good neighbors and good stewards, said Joe Roszkowski, president of the Original Oyster House. Were doing this because its the right thing to do, for our environment, our children and their children.
-more-
The Original Oyster House has also partnered with the Gulf Coast Exploreum to help educate children of all ages on the positive effects of Green Energy through the STEAM movement. The STEAM movement joins: Science, Technology, Engineering, Arts & Math. The Original Oyster House will host field trips for area schools so children can see Green Energy first hand.
About the Original Oyster House:
Causeway Location
Sunday through Thursday 11:00 a.m. – 9:30 p.m.
Friday and Saturday 11:00 a.m. – 10:30 p.m.
Gulf Shores Location
Monday through Sunday 11:00 a.m. – 10:00 p.m.
Hours may vary seasonally
Items of Note:
Great Kids Menu Available
Private Party Room Available at Both Locations
Casual Dress
Major Credit Cards Accepted
Gift Cards available for all occasions