Gulf Shores, Ala. – On Tuesday, August 17, 2021, the Coastal Alabama Business Chamber presented Dean Smythia, an Original Oyster House server since 2016, the Island Spirit Award. The award is presented monthly by the Chamber and has recognized individuals who displayed warmth, hospitality and concern for the community and tourists.
Sharon Wiese, vice president of publications for the Coastal Alabama Chamber, read the nomination while presenting Smythia the award. "Dean worked tirelessly to help his community during Hurricane Sally in September of 2020. He prepared over 3,000 meals and helped numerous families at a temporary makeshift food line at Cricos Pizza in Gulf Shores," said Wiese.
When asked about his efforts during Sally, Smythia humbly insisted it was a team of volunteers and businesses, requesting his co-workers who participated come forward and join the celebration.
"Dean spearheaded an act of goodwill that helped transition the hurricane devastation into hope. We are so proud of Dean for being an ambassador, leader and role model at the Original Oyster House," said James Nail, Original Oyster House assistant general manager.
The Original Oyster House has become the "must-go-to" place for great fresh Gulf seafood, service and Southern hospitality and for its panoramic waterfront sunsets. A top-spot for hand-shucked and fire-grilled oysters, the Original Oyster House has also become legendary for its homemade gumbo, cheesy grits with blackened shrimp, as well as handcrafted desserts including its famous Peanut Butter Pie. In 2016, the Original Oyster House became the first restaurant in the state of Alabama to recycle oyster shells through the Alabama Coastal Foundation. In July of 2021, an estimated 16 million oyster shells to date have been recovered from participating Gulf Coast restaurants.
The Original Oyster House (OOH) has two locations, Mobile: 3733 Battleship Parkway, on the Causeway and Gulf Shores: 701 Gulf Shores Parkway on the Original Oyster House Boardwalk. Both locations offer spectacular waterfront views and have been celebrated as the area's finest family restaurants for the past 37 years. For more information about the Original Oyster House, please visit www.originaloysterhouse.com or call 251-928-2620.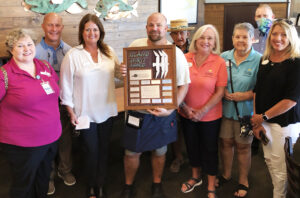 Awarding the Island Spirit Award from left are Brandi Ingram, Andrew Carlson, Sharon Wiese, Winner: Dean Smythia, Allen McElroy, Ellen Murphy, Judy McManus, James Nail and Suzette Hataway.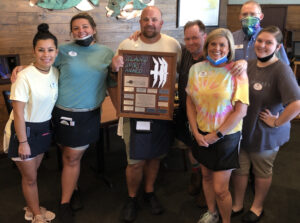 Celebrating with some of the volunteers who joined Dean Smythia after Hurricane Sally to feed neighbors, first responders and hungry passersby. Pictured from left are Jael Noriega, Lindsey McNeil, Dean Smythia, Steven Shillito, Andrea Miller, James Nail, and Kristina Cromer.