The Original Oyster Houses
8th Annual Chelsea Garvin Spirit Award Scholarship Program
The Original Oyster House will award two $1,000 scholarships to High School seniors in Baldwin County.
The Chelsea Garvin Spirit Award Scholarship Program has been created in loving memory of Chelsea Garvin.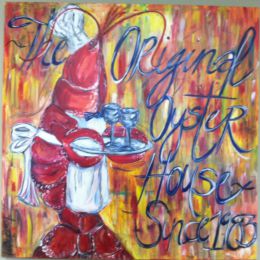 She was a 2004 graduate of Fairhope High School, a Fish River Fire Department Rescue Diver, an Original Oyster House employee and a talented artist. Tragically, Chelsea's life was cut short due to a boating accident in 2005.
To qualify you must be a High School Senior in Baldwin County for the 2012-2013 school year with a minimum GPA of 2.5 and participate in recent school or community art events. Your piece of art should reflect the Original Oyster House in some way. We will accept Oil, Acrylic, Watercolor, Pastel, Charcoal, Pen and Ink, Colored Pencil, Mixed Media, Ceramics or Sculptural media types. The winning art work must be ready to hang and becomes the property of the Original Oyster House for display in one of the restaurants or for marketing purposes. Please include the following identification on the back of the art: Name of Artist, Title of Art, Medium, Teacher's Name and Name of School. The selected winning art does become property of the Original Oyster House.
Art and applications are due on or before Wednesday, April 17, 2013. We are looking for the most artistic and creative representation of the Original Oyster House.
We are now accepting online submissions for these scholarships. To learn more and apply online at: www.originaloysterhouse.com/scholarship.php
For more information on our annual scholarship program, please contact Shannon Roh, Customer Relations Director for the Original Oyster House Restaurants at 251-928-2620 or shannon@originaloysterhouse.com.