The Original Oyster House awarded its 15th Annual Chelsea Garvin Spirit Scholarships to Carolina Triboni of Spanish Fort High School and Hannah Weiland of Bayside Academy. Triboni will study painting and drawing at Auburn University and Weiland will study architecture at Auburn University in the fall.
In 2006, the scholarship was founded in loving memory of Chelsea Garvin, who was an exceptional employee, a volunteer Fish River Fire Department Rescue Diver and a talented artist. Tragically at age 19, Chelsea lost her life in a boating accident while volunteering.
It's called a spirit scholarship to encourage awarding a recipient who reflects the spirit of Chelsea. And both winners this year absolutely did. Triboni's submitted artwork received the most votes from the scholarship committee, her application was engaging and her contribution of a 4-foot wall mural, her parting gift to the Spanish Fort High School art room, will inspire students for years to come. Weiland's leadership as art guild president and Azimuth Circle designer as well as her role as yearbook editor confirmed she doesn't hold back on her time or talent.
The winning artworks will be displayed in both Original Oyster House locations for patrons and tourists to enjoy. The winners were given $1,000 each as well as restaurant gift certificates to see first-hand their artwork with family and friends.
The Original Oyster House has become the "must-go-to" place for great fresh Gulf seafood, service and Southern hospitality and for its panoramic locations. A top-spot for hand-shucked and fire-grilled oysters, the Original Oyster House has also become legendary for its homemade gumbo, cheesy grits with blackened shrimp as well as handcrafted cocktails and desserts including its famous peanut butter chocolate chip pie.
The Original Oyster House has two locations, Mobile: 3733 Battleship Parkway, on the Causeway and Gulf Shores: 701 Gulf Shores Parkway on the Original Oyster House Boardwalk. Both locations offer spectacular waterfront views, private party rooms and have been celebrated as the area's finest family restaurants for the past 38 years. For more information about Original Oyster House, visit www.originaloysterhouse.com or call 251-928-2620.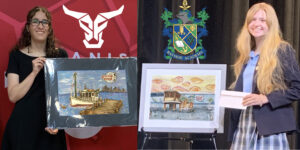 Pictured from left are this year's Chelsea Garvin Spirit Scholarship awardees: Carolina Triboni, Spanish Fort High School senior and Hannah Weiland, Bayside Academy senior. Both women reflected the spirit of Chelsea Garvin, who was killed in 2005 while volunteering in a boating accident. In 2006, the scholarship was founded to honor her.