Are you interested in working at one of our area's best known res­taurants for great seafood, scenery and southern hospitality? The Original Oyster House is looking for good people who want to work in a fun, casual atmosphere with panoramic waterfront sunsets, caring coworkers and competitive benefits. We are hiring cooks, expediters, prep, dishwashers, retail sales associates, bussers, hosts and cashiers. Experience a culture that thrives on service, recognition and financial reward. Summer incentives are available. To learn more attend the Original Oyster House job fair at the Gulf Shores restaurant on Thursday, March 4, 2021 from 10 am to 4 pm, visit www.originaloysterhouse.com/jobs or call 251-928-2620 x 109.
The Original Oyster House will follow state health guidelines concerning COVID-19, including social distancing and masks. The Original Oyster House has two locations, Mobile: 3733 Battleship Parkway, on the Causeway and Gulf Shores: 701 Gulf Shores Parkway on the Original Oyster House Boardwalk. Both locations offer spectacular waterfront views and have been celebrated as the area's finest family restaurants for the past 38 years. For more information about the Original Oyster House, please visit www.originaloysterhouse.com or call 251-928-2620.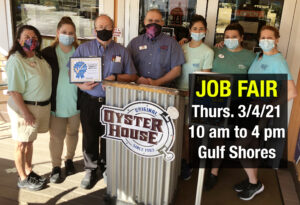 Gulf Shores Original Oyster House is hosting a Job Fair on Thurs. March 4, 2021 from 10 am to 4 pm. Winners of Gulf Coast Media's Big Beautiful Baldwin Best Shrimp & Grits.